Webmin make server management easy. And, Webmin can be used on a system with no Internet connection too.
Unfortunately, when you cannot access the Webmin interface, things go for a toss.
Sometimes may happen problem logging into Webmin interface like below: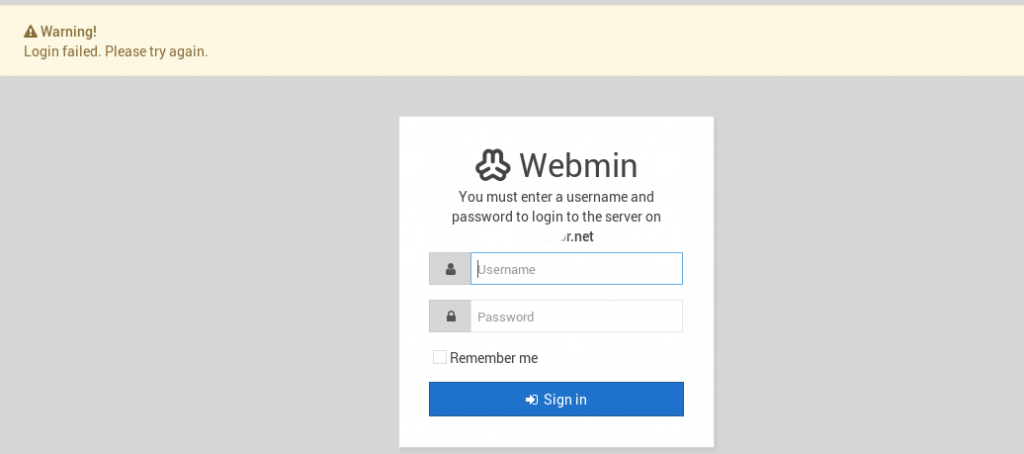 What causes Webmin login failed message?
From our experience in managing Webmin servers, login failure is a common problem that customers face. Now, let's see the typical reasons that cause Webmin login failures.
1. Incorrect username and password
Usually, Webmin failures happen when users type in the wrong username and password. This often happens when customers forget the username password combination. Webmin supports two types of authentication, either Unix authentication where it uses system user details or Webmin authentication using Webmin configuration files.
2. Firewall block
Yet another reason for Webmin access failure is IP block. By default, Webmin allows 5 login attempts and then it set a lockout time of 60 seconds.
So, if the users attempt to forcefully login via guessing the password, or keep repeating the login attempts, the server will block the user's IP address for several minutes. and, it results in an error message saying:
Error – Access denied for 202.xx.xx.1. The host has been blocked because of too many authentication failures.
3. Users out of sync
Again, "Webmin login failed" message appears when users go out of sync. By default, Webmin will authenticate the user name and password against credentials of same user name in Unix/Linux account. Therefore, if for any reason, the users are out of sync, it can result in login failures.
Steps to fix Webmin login:
1. Fix username and password
The first thing that we do is to find whether Webmin has Unix authentication or Webmin authentication. By default, the Webmin user access rights is set to Unix authentication. In case of Unix authentication, to reset the password of the user, we just have to use the passwd command.
Therefore, we login to the server via SSH as root, and type the following command:
passwd
Then we enter the new password for the root.Now, Webmin will use the new password for authentication automatically.
Luckily, Webmin comes with a program called changepass.pl to solve password related problem in Webmin authentication. When user gets login failed message, we first confirm if they are using the correct login details.
/usr/libexec/webmin/changepass.pl /etc/webmin username password
Here, we substitute the username as root and the required password. The exact path of the changepass.pl program depends on the server type. For instance, on servers running a Debian distribution, the file will be located at /usr/share/webmin/changepass.pl
In case of Unix authentication with Webmin, the password value will be shown as "Unix authentication" in Webmin -> Webmin Users -> User account.
2. Unblock IP address
Similarly, in cases of IP block due to failed login, we need to unblock the IP address Webmin configuration.
Webmin holds the details of banned IP address in the file "/etc/webmin/miniserv.conf". To revoke Webmin access, scroll to "Deny" section and remove the user's IP address. Thus, they will be able to access the panel once again.
3. Sync up users
Alternately, the fix may also involve correcting the sync up problems with the users. To enable root login for Webmin, we open the file /etc/webmin/miniserv.users and add the line as:
root:x:0
Set the proper entries in the /etc/webmin/webmin.acl file too.
However, in some cases, Webmin simply refuses to grant access despite password reset. This probably indicate corruption with the Webmin installation. In that scenario, problem can solve by uninstalling and reinstalling Webmin.
Thank you for reading this article.